Video: Dory in 30 seconds
The world's most beautiful, personal and functional door sign.
We believe every home should have a door sign. It's a friendly welcome to both guests and yourself – and adds a touch of style and personality to your entrance. With Dory you have the freedom to change the appearance of both the text and frames whenever you like. The robust and high resolution 5.2" display from E Ink only consumes power when changing content and will operate 5–10 years before replacing the battery. Eco-friendly in both production and use, and probably the last door sign you'll ever need.
Dory highlighted as one of four products under the weekly column «Cool European Tech News»
One sign – hundreds of combinations
Use the app to control the ePaper display

Dory features hand picked fonts from leading foundries, beautiful illustrations and designed templates in a wide variety of styles. You can also set up temporary messages to welcome your dinner guests – or tell the delivery guy you're back in 5 minutes. No more post-it-notes on the door.

Blend in or stand out with our swappable frames

The Dory kit comes with a versatile light gray frame to suit any surroundings – but they can easily be swapped for frames in different colours, designs and materials such as real wood, metal and stone. For matching your entrance or make a little extra something out of birthdays and holidays.
Get a closer view in 3D or Augmented Reality
Example Dory shown with a swappable frame with front in real oak veneer. The high resolution (284 dpi) ePaper display from E Ink displays text and illustrations with amazing clarity and detail. The smart mount only builds 1.5 mm and can be rotated for both horisontal and vertical sign orientation.
Illustration: Frode Skaren (byHands)
Dory with the included frame shown on door and wall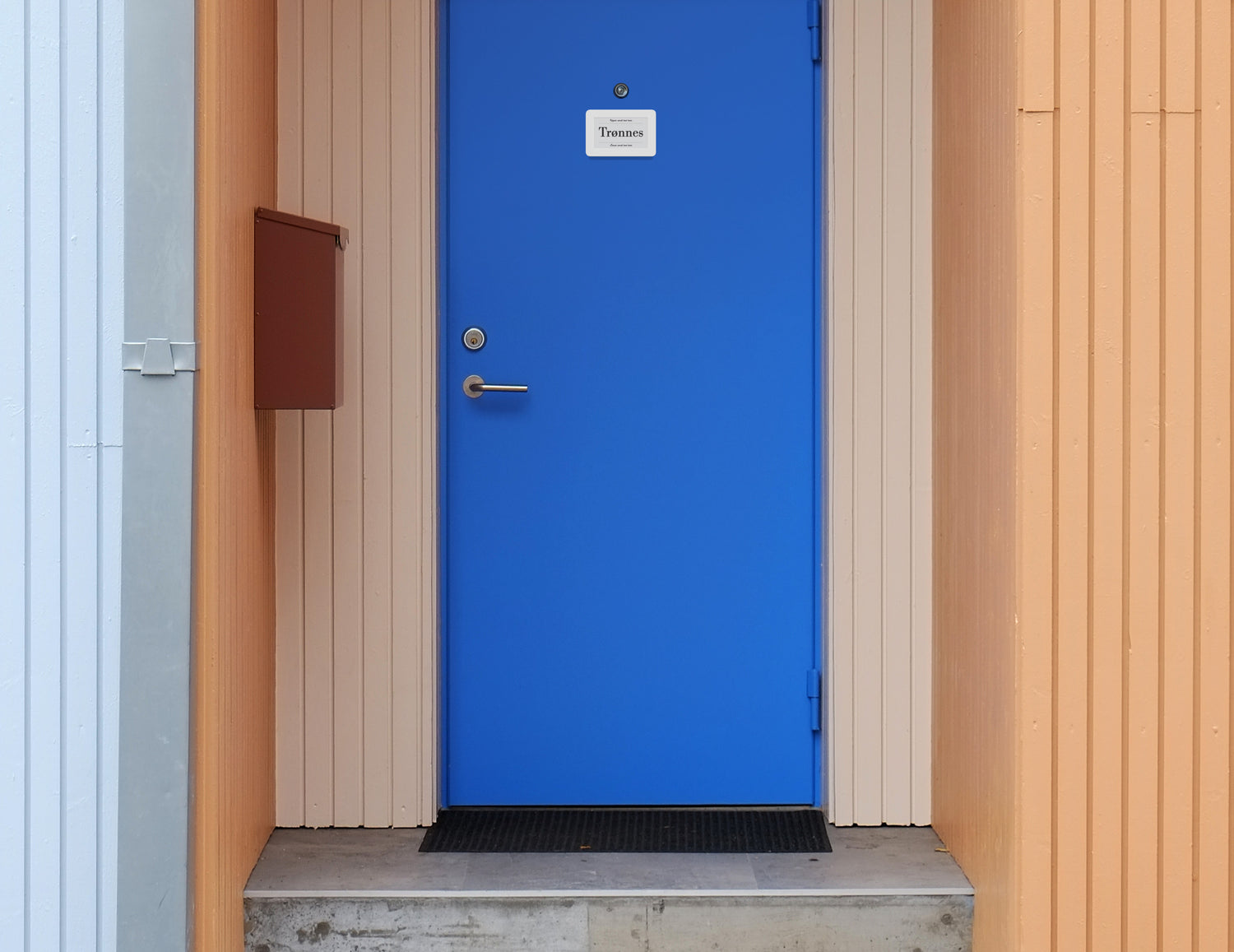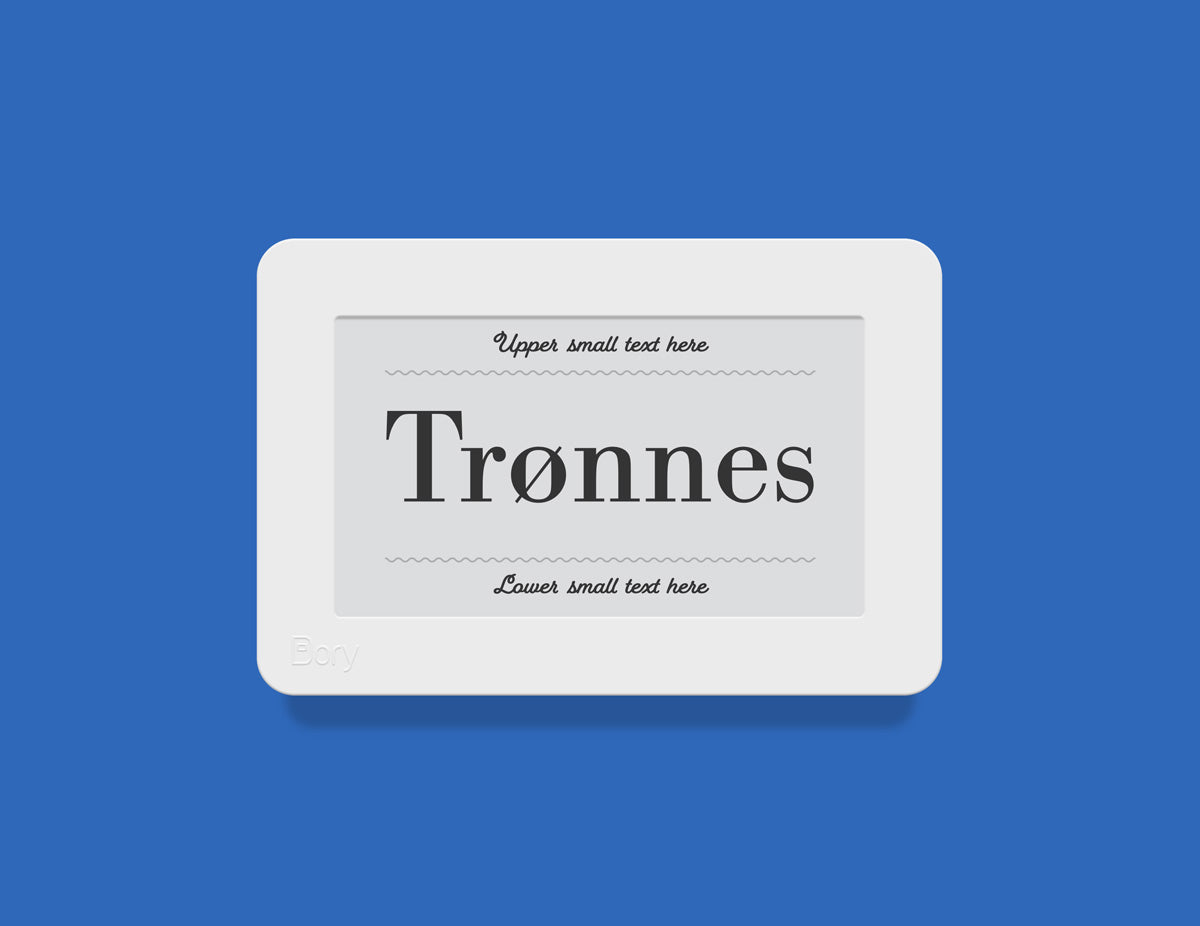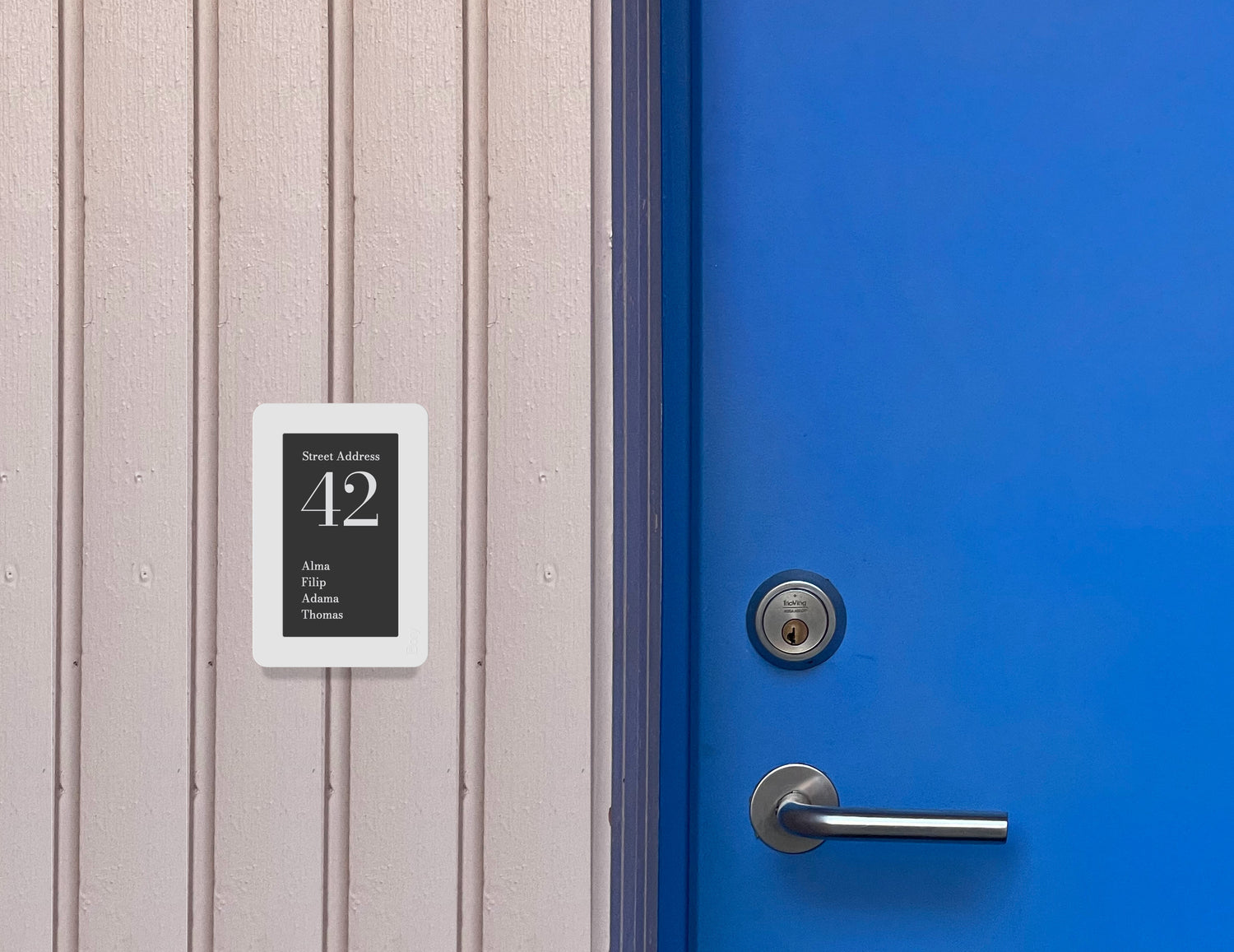 The size strikes the right balance between being clearly visible and readable without being obtrusive. Dimensions: 144 x 96 x 12 mm, excluding mount.
Dory sign
Everything you need to get started: The main unit, a white swappable frame, the smart bracket and batteries. Reserve a spot for the launch later this year (introductory price).
Regular price

€129,00 EUR

Regular price

Sale price

€129,00 EUR

Unit price

per
View full details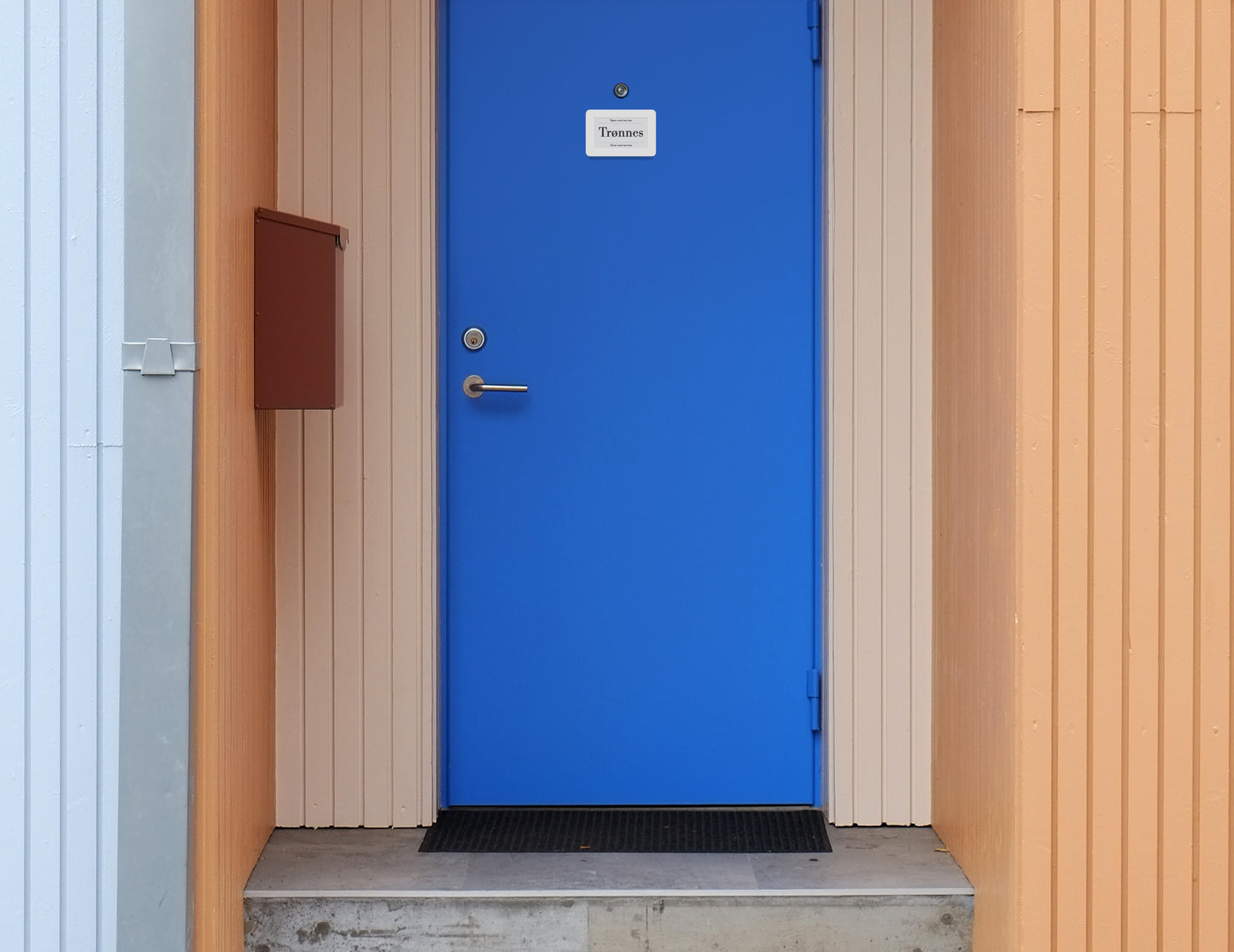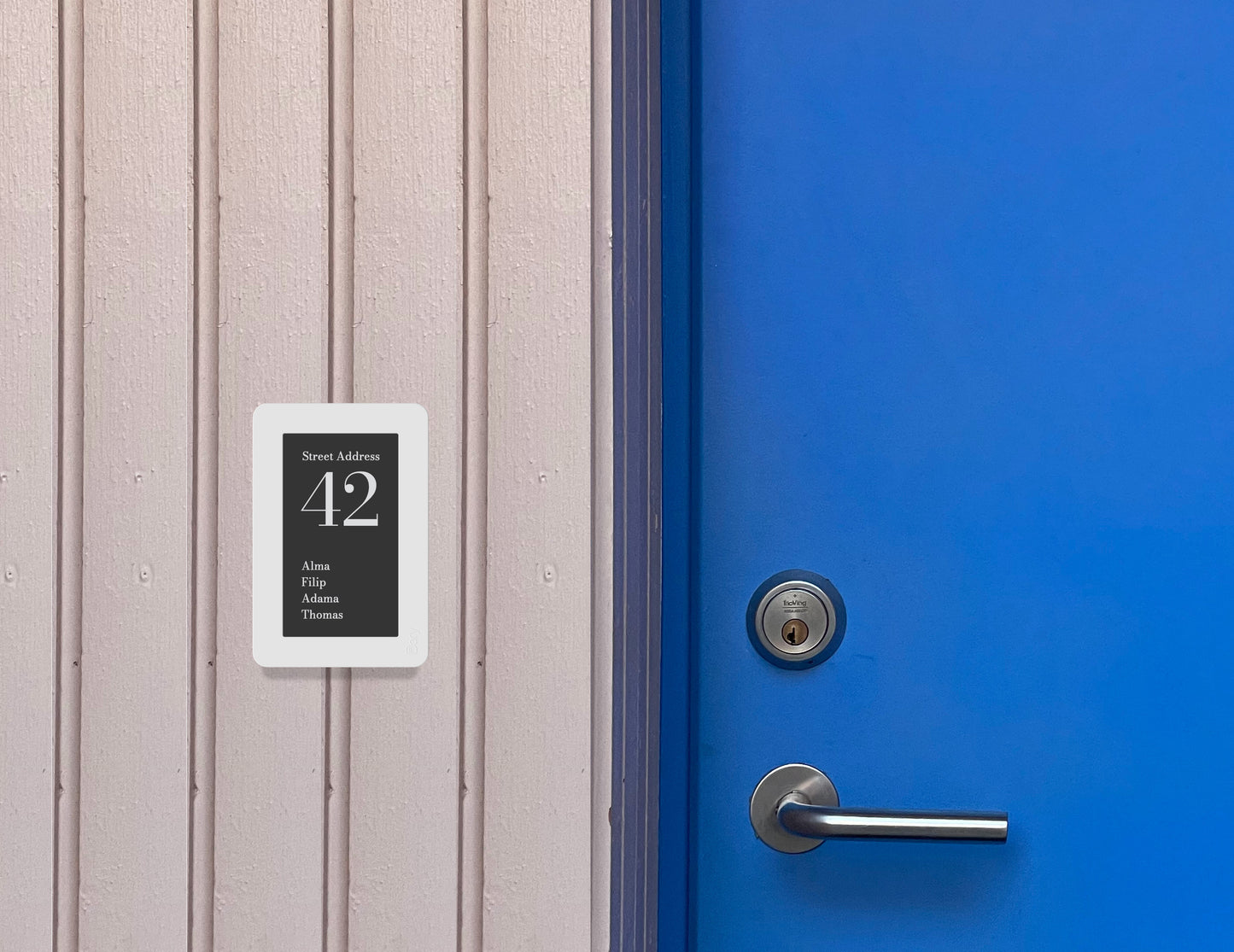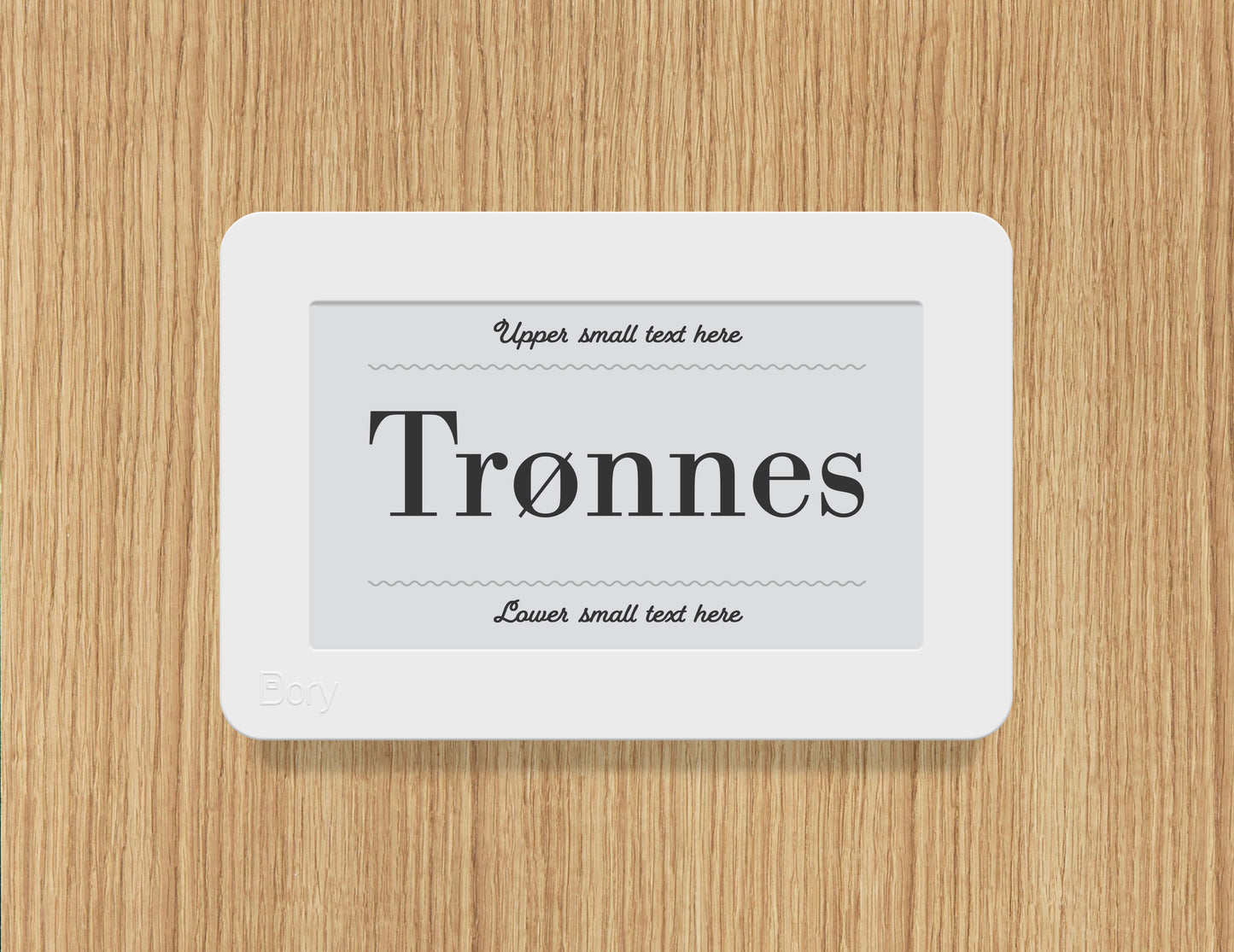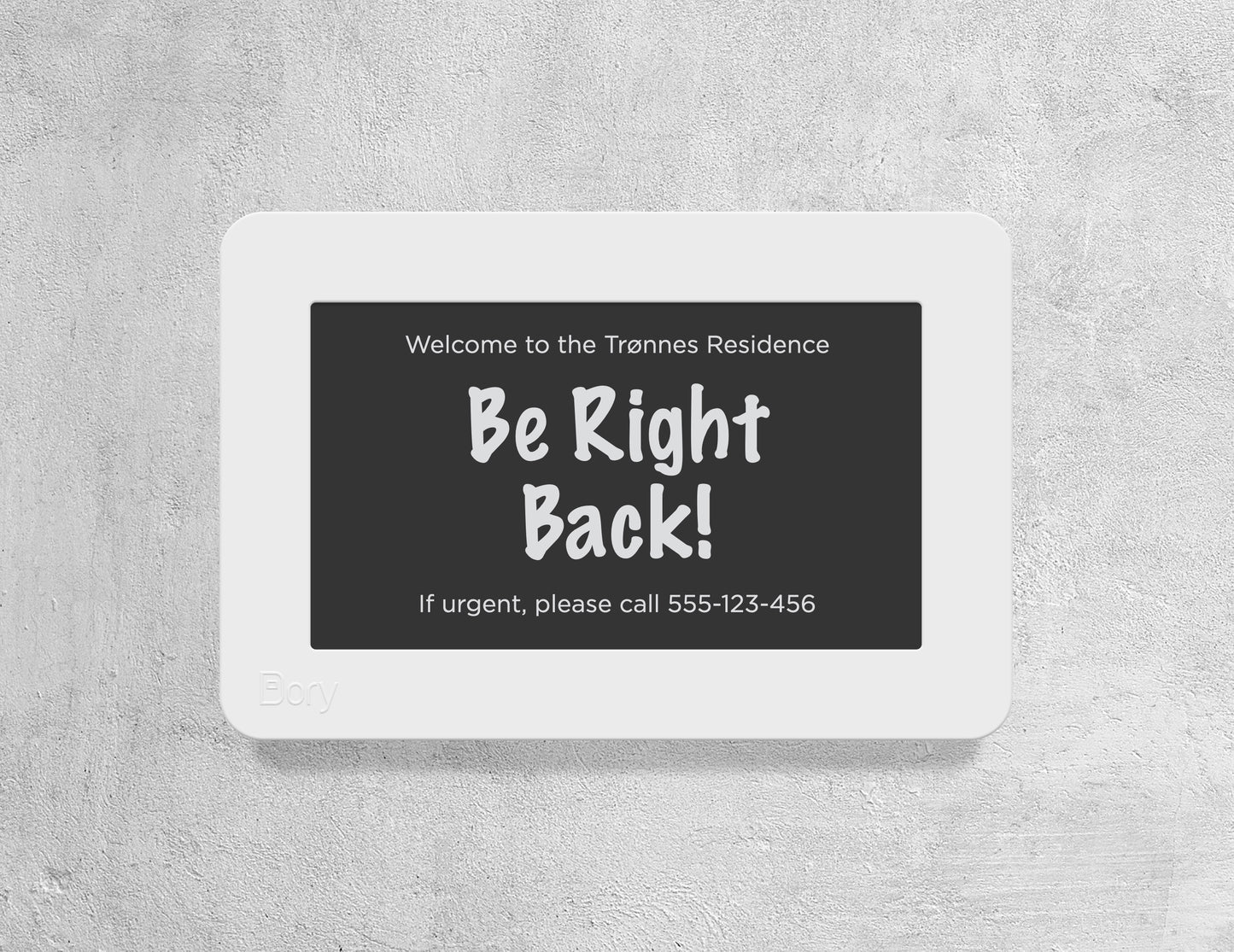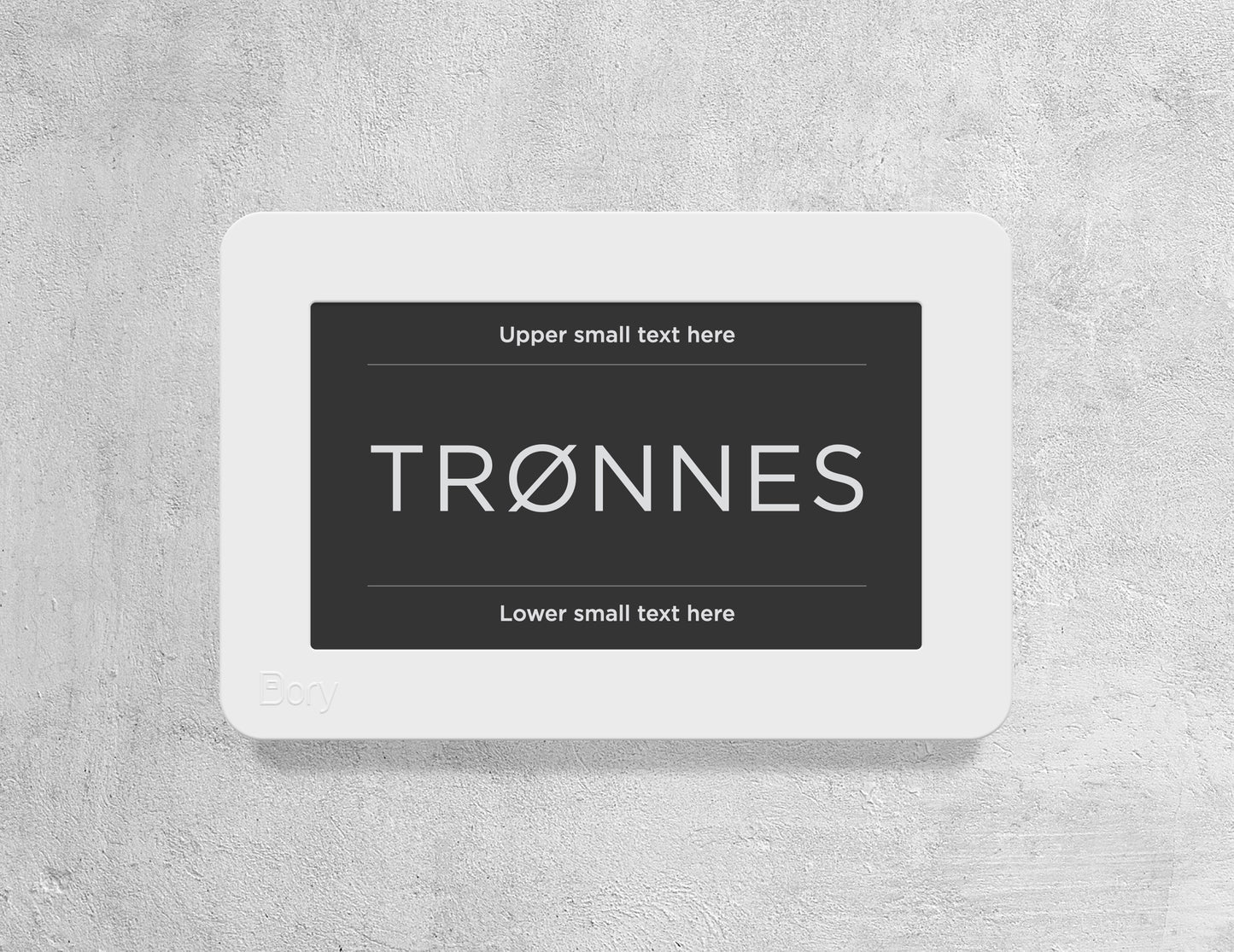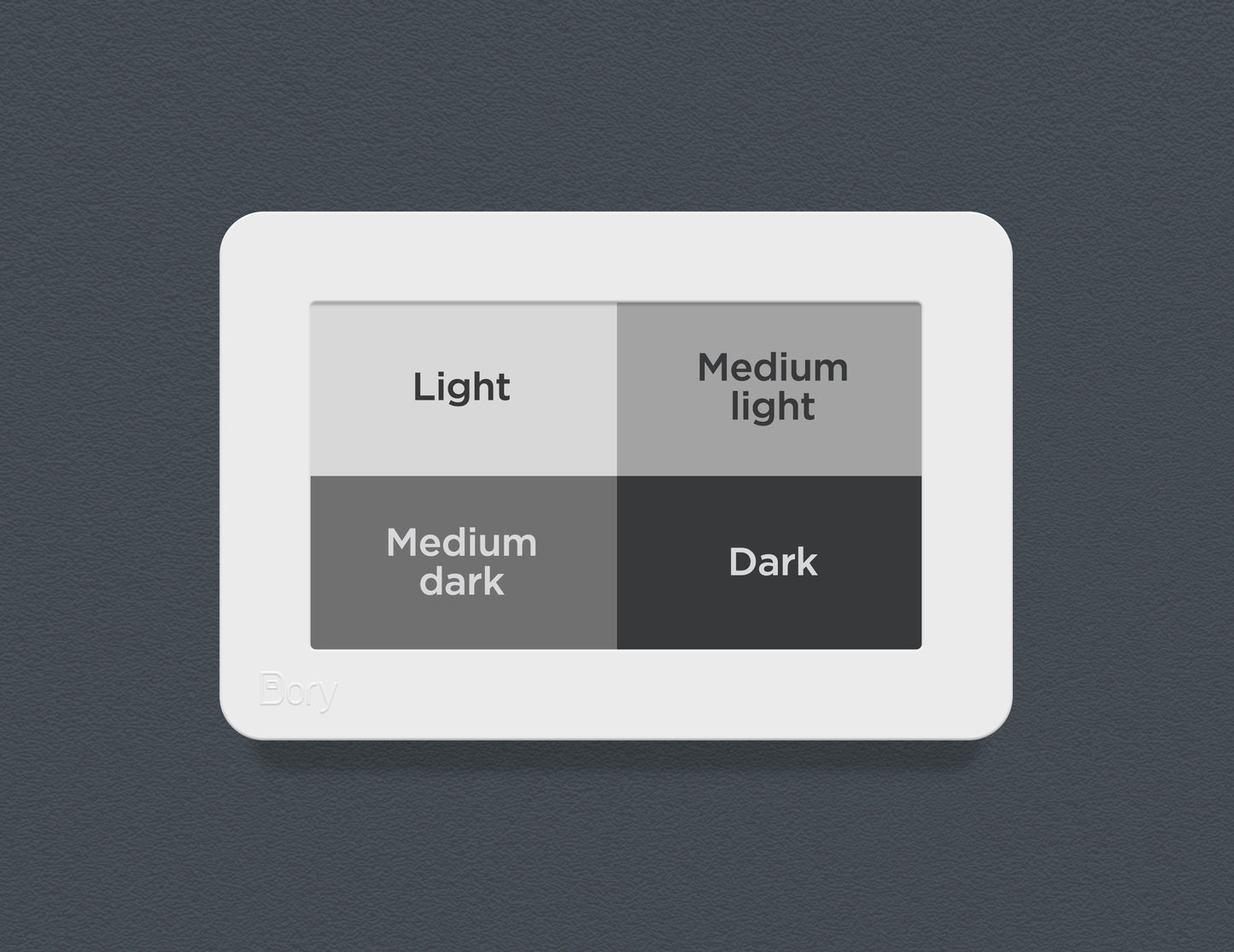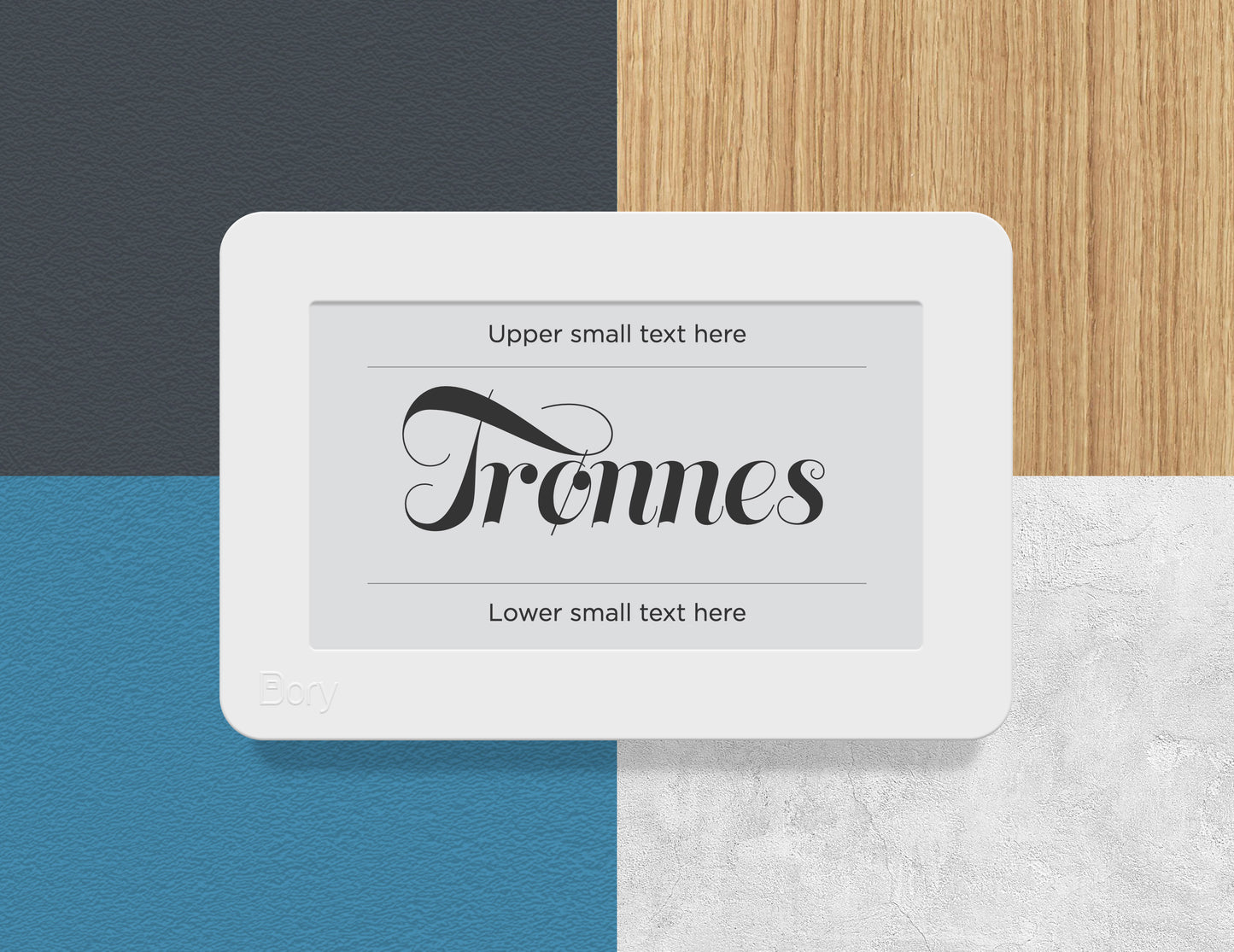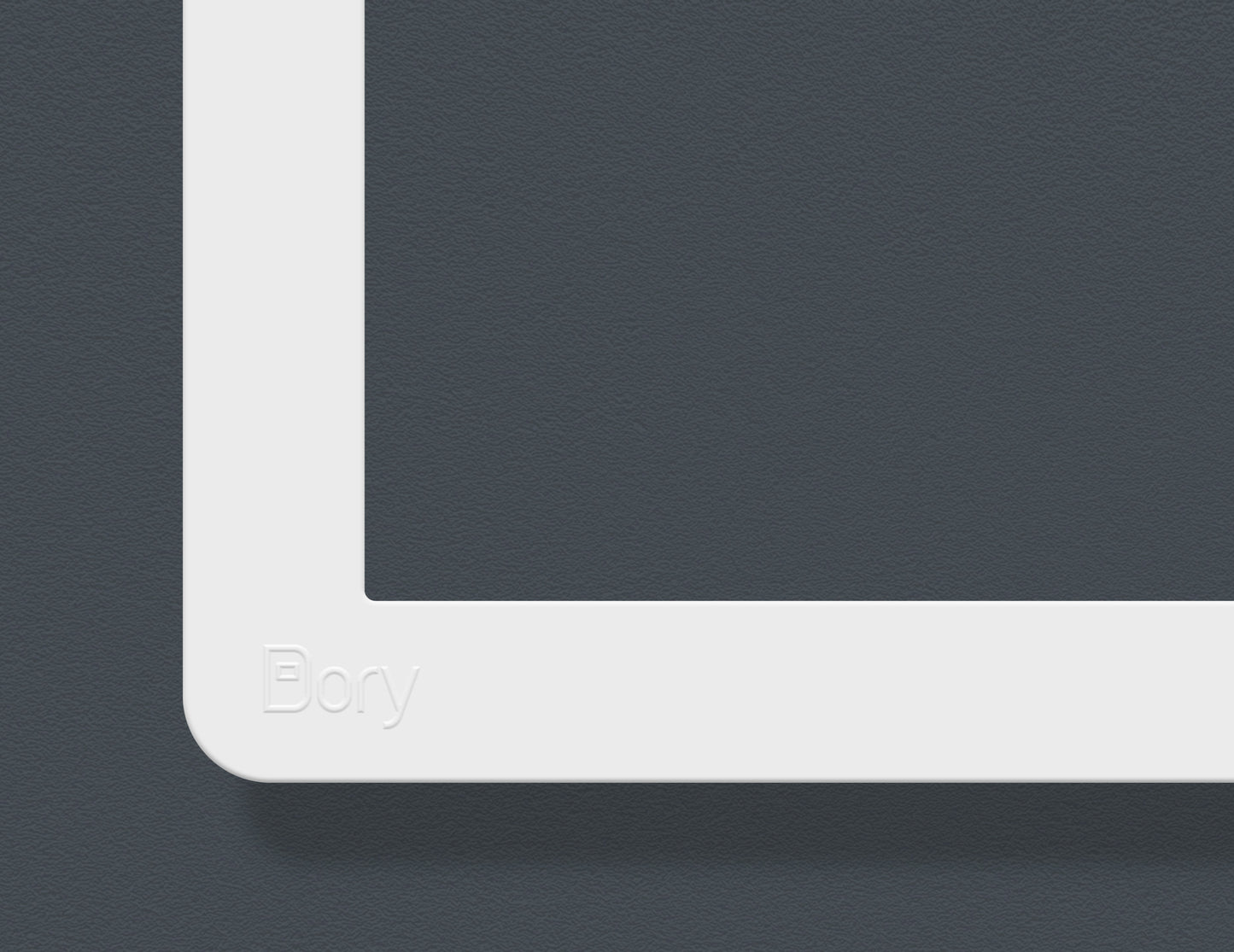 Ten reasons why we think you'll like Dory (actually this one goes to 11)
Your perfect door sign

We want everyone to have their perfect door sign. That's why we made Dory modular in all parts of the design.

Temporary messages

Let Dory welcome your dinner guests – or tell the delivery guy you're back in 5 minutes. No more post-it-notes on the door.

Designed templates

You cannot go wrong with our designed layouts with a growing variety of font styles and illustrations.

Swappable frames

A growing selection of frames in different colours, materials and artist collaborations. For both everyday and special occasions.

Environmentally friendly

Built to last and sustainable in both production and use, and might be the last door sign you'll ever need.

Highres ePaper display

Latest generation of high resolution 5.2" ePaper display from E Ink. Shows text, illustrations and even photos with impressive detail and clarity.

Years of battery life

Dory does not use any power in daily use. The supplied batteries allows for up to 200 screen updates, or 5–10 years of use.

Mount included

The supplied mount are invisible in use and can be mounted both horisontally and vertically.

Floating design

The main body acts as a spacer to the wall surface for an elegant expression on both rugged or smooth surfaces.

App controlled

Dory should be fun and easy to update for everyone. The app is available for iOS at launch and Android shortly after.

Protected

You have the option to secure both the frame and the main unit with a single security screw.
A growing collection of swappable frames – for any surroundings or occasion
Regular price

Sale price

€29,00 EUR

Unit price

per

Regular price

Sale price

€29,00 EUR

Unit price

per

Regular price

Sale price

€29,00 EUR

Unit price

per

Regular price

Sale price

€29,00 EUR

Unit price

per

Regular price

Sale price

€29,00 EUR

Unit price

per

Regular price

Sale price

€29,00 EUR

Unit price

per

Regular price

Sale price

€29,00 EUR

Unit price

per
"After screening hundreds of innovative ideas the last years, I find this simply brilliant! No wires, no charging, easy installation, tailored messages and cool frames."

June 2021
Tarald Trønnes
Senior Design Advisor, DOGA (Norwegian Design Council)
Frequently Asked Questions
Electronic paper sounds a bit fragile?

The technology name is somewhat misleading as the display are not made of paper but highly durable and robust materials. The Dory casing are designed and made for both indoor and outdoor use (IP rating to be announced). Expect decades of use in either hot or cold climates.

I'm neither technical or handy – will I be able to use Dory?

Absolutely! We want all aspects of Dory to be easy and fun for everyone. From the mounting, to the initial setup and future editing of your sign. In addition we plan on offering remote setup assistance and video support (details to be announced)

Does the app cost anything?

The app will come in two versions: The standard and free version with everything you need to use the sign – including a set of quality fonts in a range of styles and beautiful illustrations made for Dory. We believe many of you will be more than happy with this version. In addition we will offer an affordably priced premium version (around 2 USD/month) which will provide access to a larger and growing library of fonts, illustrations, custom functionality as well as a special offers. Full details to be displayed closer to product release date.

What happens if the battery run out?

This will probably take many years for anyone to experience, but visually nothing will happen. Electronic paper have the rather magic ability to hold a static image without any power at all. The only consequence is that you will not be able to edit the sign before you change the battery.

Where is it made?

The display units are delivered by E Ink which is a USA and Taiwan based company, and the casing and electronics are planned for production and assembly in Norway. The initial design and development are done in Norway as well, but we plan on international collaboration with designers and artist going forward.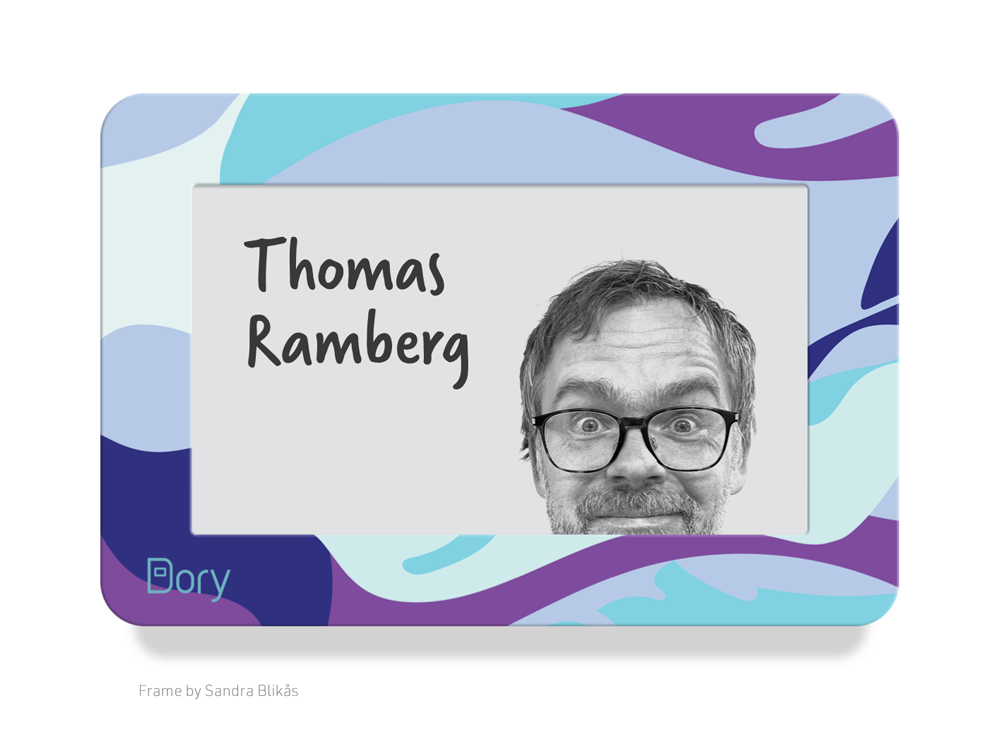 A note from the founder
Dear visitor! Dory is the result of wanting to make a better door sign for everyone. A sign that can compliment any surroundings, that can change and grow with you, and may be the first sign you buy and the last you'll ever need. As a designer myself, I wanted Dory to offer a wide range of design expressions on both the physical frames and the screen content – and also offer a more fair payment model to our collaborating designers. I believe we are on an interesting path and I'm looking forward to hear your opinions – both now and when we deliver the first signs later this year. Best regards, Thomas.
Notes on price: All prices on the site are shown in euros at the moment. The Dory kit price is EUR 129 (inc VAT), USD 129 (ex VAT) and NOK 1290 (inc VAT). The price is set as an introductory price and may be adjusted after launch. Details of the product may change before deliveries. Preorder today with a 10% deposit.